BACK TO ALL NEWS
Natural Hair Portraits Project: background
Looking at the origin of a portrait project aiming to represent Natural Hair in the acting profession and beyond.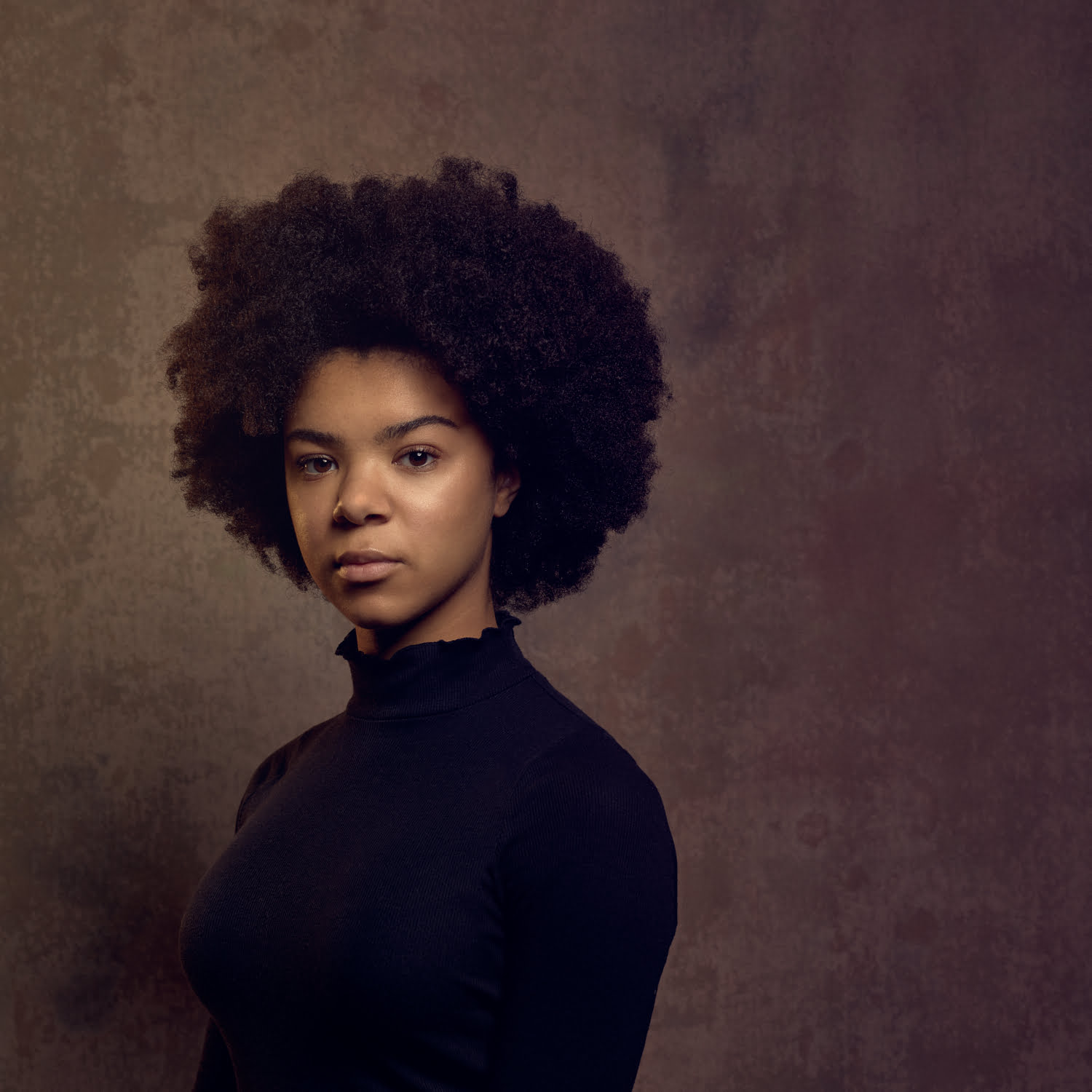 Over the course 2018, an idea for a project began to form. A number of (mainly, but not exclusively female) actor clients for whom I'd shot headshots, returned specifically to add images to their portfolios that showed off 3 or 4 contrasting versions of their hairstyles.
Actors often want to show range through subtle nuance in their portraits, but hair show-and-tell is less common. I wanted to encourage my clients away from it. No, they explained, we have to do this, because the industry simply doesn't understand our hair or what it can do.
Incomprehension
As you might guess given the title of this news piece, the common denominator was that these clients were all black or mixed race, with afro and mixed-race or multi-textured hair. They shared anecdote after anecdote about systemic industry failures, in casting, production matters and on-set/backstage hair styling, to understand, manage or use the strengths of their hair.
Anecdotal it might be, but it chimes with the experiences of many actors discussed in a recent piece by Afua Hirsch: "If black TV stars are treated so differently, what can the rest of us expect?".
And it's not just in the UK; despite the way in which films like If Beale Street Could Talk and Black Panther have championed natural hair looks in mainstream cinema through the work of stylists like Camille Friend, such issues have blown up in the US over the last few weeks as actors – tweeting under the ActingWhileBlack hashtag – have called on production companies to hire stylists who understand natural hair textures.
Inherited prejudices
These clients opened my eyes to the issues surrounding natural hair, but also caused me to reflect at length on the inherited biases and prejudices in the systems surrounding the entertainment industry and how they have impacted issues of representation.
In photography, it's difficult to step outside a long history of technological development focused primarily in portraiture terms on capturing white and light skin tones. What Syreeta McFadden called an "inherited bias against dark skin" (Teaching the camera to see my skin). Historically, colour film stocks that couldn't handle the nuances and tones in dark skin. Autofocus systems based on light contrasts that reached first for light areas and struggled to 'see' and focus on black, brown or dark skin. And a progression from analogue to digital that passed many of those problems directly into the world of digital sensors and systems.
Shooting on-set stills recently for a feature film, I was frustrated again and again as my brand new Sony A7 III, boasting supposedly one of the best autofocus systems going, routinely struggled to focus on black and mixed race cast members in low light conditions, while handling white skin in the same light, with few problems.
In film and theatre, inherited technical biases abound, from lighting equipment and lighting traditions that privilege light skin, to camera and video sensors that have limitations just like stills cameras. The MicMedia video about the way DOP Ava Berkofsky developed lighting for black skin in the HBO series 'Insecure,' offers a brilliant summary of those historical failings, or you can read about their aim of 'lighting black skin properly' here. Meanwhile, Ava Duvernay has spoken out specifically about the way Boardwalk Empire lit Michael K Williams, and about her own contrasting approach to experimenting with light for black skin.
Then if we think of casting, even the boxy limitations of the standard 10 x 8 inch actor's portrait and the online systems like Spotlight that use it are an indirect discouragement of larger natural hair, hair shapes. How much harder to stand out on a webpage page of thumbnail photos if your shot is 50% hair, 30 % face, while your straight-haired contemporaries fill 60-70% of the frame with their phizzogs?
Changing cultural archetypes of beauty
And these factors are only the technical background to the obvious cultural privileging of white Western ideals of hair and skin beauty in mainstream culture over centuries, an inherited visual orthodoxy that influences casting, hiring and shooting principles across film, photography, theatre, music, fashion and beauty, creating a stranglehold that is hard to challenge in achieving better representation today, and drives new generations towards chemical relaxants and the like.
So that when it comes to a specific aspect of identity like natural hair, even more than a decade of action via the Natural Hair movement "doesn't necessarily mean the stigma surrounding natural hair has disappeared," says Maxine Harrison.
But as Nadia Latif wrote in a 2017 Guardian piece concerning film (It's lit: how film finally learned how to light black skin), "at least the tools of cinematography have become equal to the imaginations of film-makers" so that "perhaps things are slowly changing":
"It's about moving past the light-skinned straight-haired blackness of the past, to embrace the dark skin and natural hair of our future….forced to hide in the shadowy corners of film because, at best, no one knew what to do with it, or, at worst, they deemed it unworthy. It's about making that blackness look beautiful and aspirational. That is the real defiance of black skin on screen."
The Natural Hair Project
So, as a photographer working in what is a visual, easily-made available, and very digestible medium, I wondered if I could try to make a small contribution to change in the UK industry, by creating a series of portraits that celebrate natural hair and black skin in all their nuance and variety, through capturing the diverse British community of contemporary Black and mixed race actors, while making them look "beautiful and aspirational" and strong.
And from that beginning to expand the project to include people from all professions and walks of life.
I designed a lighting state for a test shoot, and asked some past clients and friends to sit for me; the results are in the photos above.
The set up needs some small adjustment but overall, the results of the shoot, and the reaction of industry contacts and sitters makes it seem like a worthwhile project.
I'm keen to ensure the project doesn't overstep the mark and handles these areas sensitively, so I've been asking for feedback from relevant individuals and groups like Triforce. One result of that has been that I've learnt about the idea of LOC journey and how important that is to many people, and so I'll aim to include LOC sitters as a result.
So, if you're reading this, and feel there's an angle I haven't covered, or perspective it'd be worth considering, I'd be really grateful if you'd get in touch:Â michael@michaelwharley.com
Subjects needed:
I'm now in the process of setting up a couple of shoots, at which we'll work with a hair stylist and make up expert who are skilled with natural hair and dark skin, and see as many sitters as possible over a day.