BACK TO ALL NEWS
Our Lady Who Art in Stratford East..
Enjoying a visitation from the 'Our Lady of Kibeho' team, attempting to work miracles on a new poster…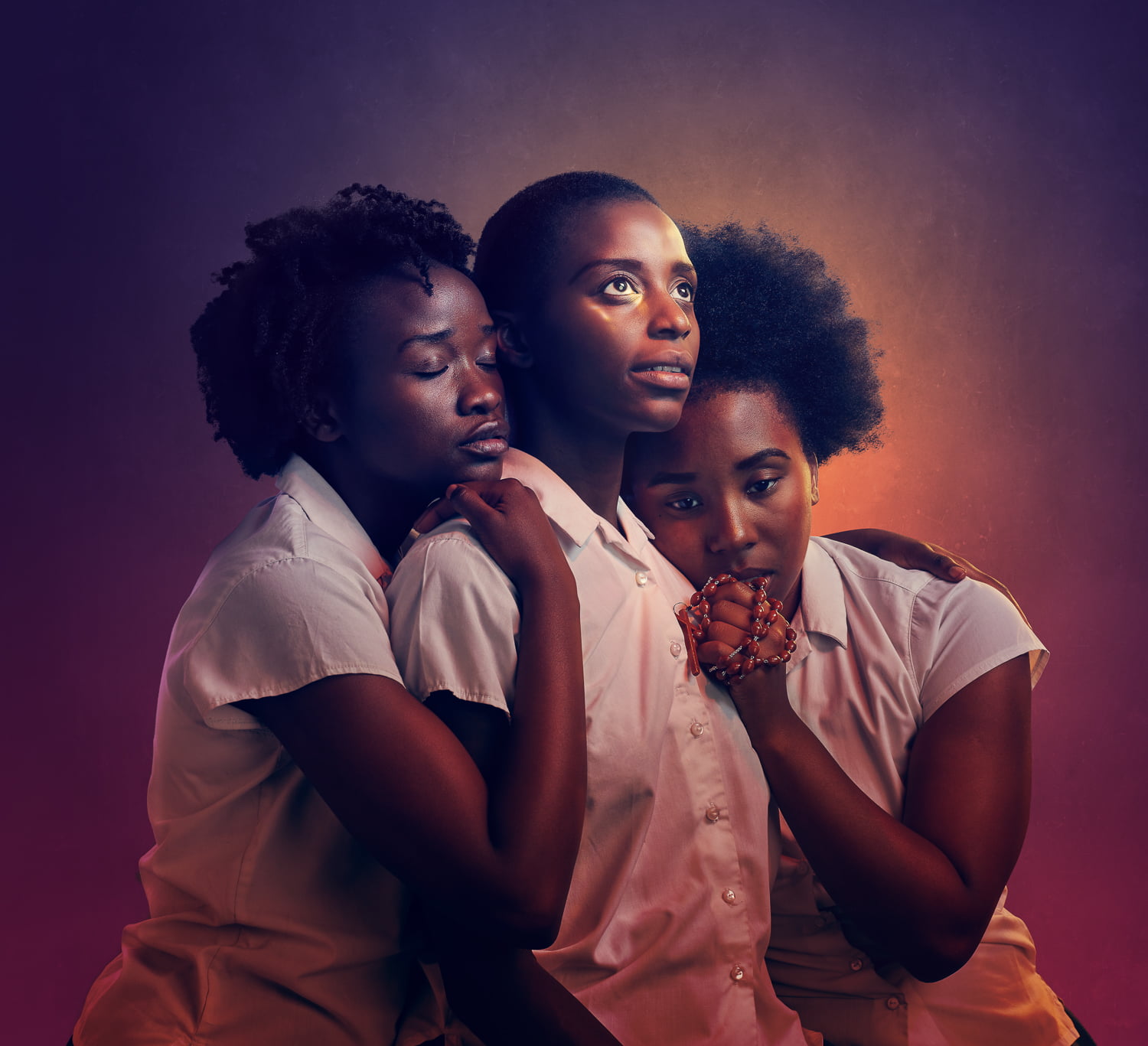 August saw a special visit to the studio from director James Dacre, the team at Stratford East and actors Taz Munya (@TazMunya) Pepter Lunkuse, and Liyah Summers (@liyahsummers), to shoot new poster imagery for 'Our Lady of Kibeho.'
"In 1981 at Kibeho College in Rwanda, a young girl claimed to have seen a vision of the Virgin Mary who warned her of the unimaginable: Rwanda becoming hell on Earth. She was ignored by her friends and scolded by her school but then another student saw the vision, and another, and the impossible appeared to be true."
The play, a meditation on faith, doubt and miracles, was hailed as "the most important play of the year" by The Wall Street Journal when it premiered in New York in 2014, and earned rave reviews in its first UK run at Northampton earlier this year (see below).
The Shoot
So, no pressure for the shoot!
Inspired by the brief from Rebecca Pitt and the original run's advertising image, we created a multi-gelled lighting set up, to try and create a sense of the sublime and uneasy, while uniting the three girls. A special gelled spot for Taz, in the centre, added an additional subtle hit of colour.
Once that was achieved, finding the nuance of the girls' performance was the key, and the three actors really excelled, giving us detail, subtlety emotion- no mean feat when rehearsals hadn't even begun.
With a suitable polish and some final adjustments by Rebecca for the poster, we had our image. Judge the results for yourself, but it's up there with my favourites of 2019.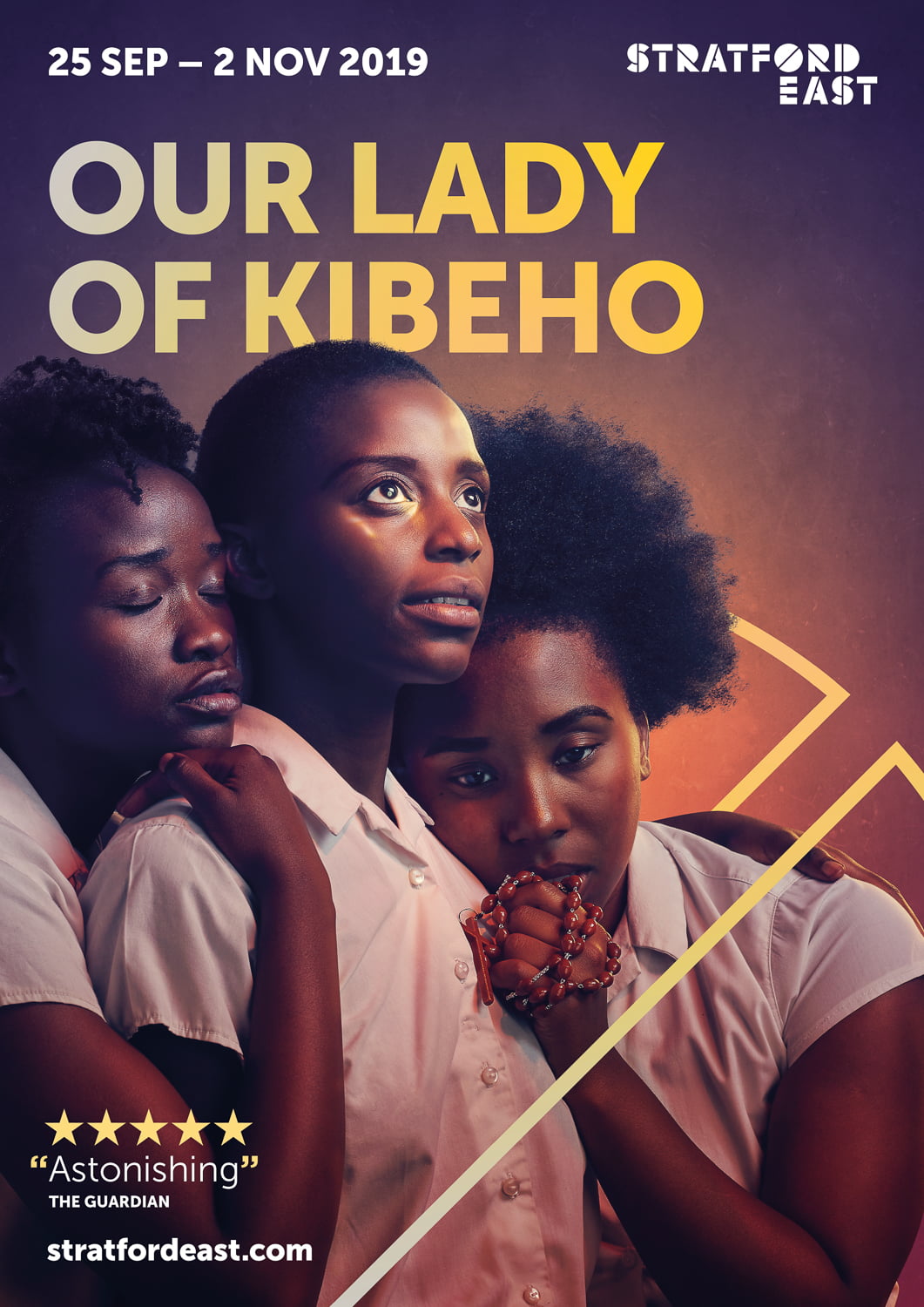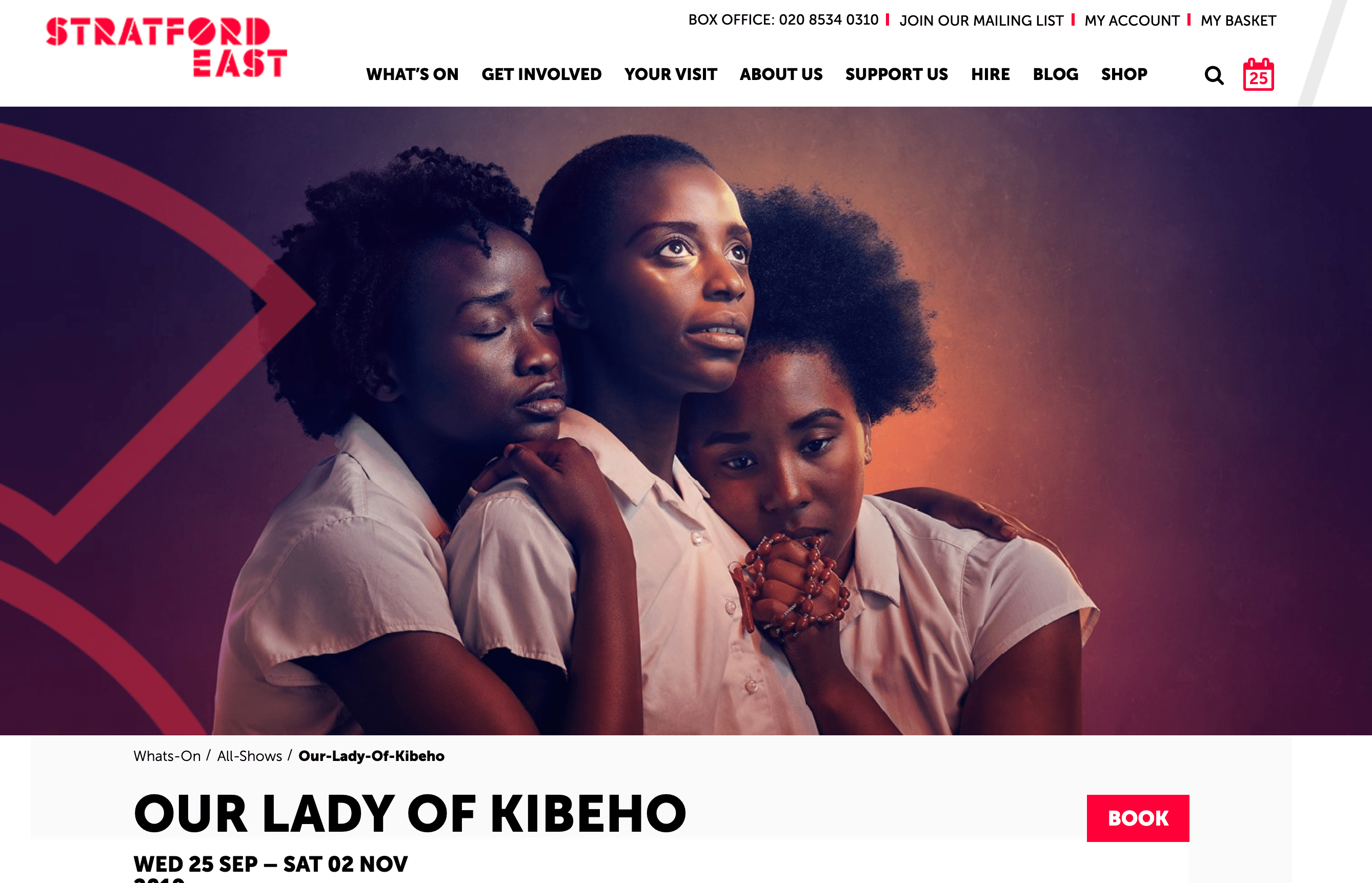 The PLAY
Marking 25 years since the Rwandan genocide, the play is written by Olivier Award-winning writer Katori Hall (twitter, whose previous plays include: Tina: The Tina Turner Musical and The Mountaintop), and now has its London premiere at Stratford East in a remount of James Dacre's Northampton production.
OUR LADY OF KIBEHO is presented by Royal & Derngate, Northampton and Theatre Royal Stratford East, and runs from Weds 25th Sept to Saturday 2nd November.
Press for the Northampton run:
"Astonishing, startling story of a heavenly visitation" – The Guardian
"Superb" "Atmospheric and fascinating" – The Times
"An uplifting vision of African faith and foreboding" – Daily Mail
"Highly accomplished" – Daily Telegraph
"Packs a powerful punch" – WhatsOnStage
"Engaging and strongly performed" – The Stage